RE: OSCAR confusing me with leaks/apneas
Thanks, I guess I will post a detailed analysis of what has been making therapy difficult.
Questions are underlined.
Mask Wise
Blisters have formed on the bottom edges of my nostrils, a large one forming on the left side of the septum. They're present in both nostrils, moreso on the left side. I believe that the nasal pillows are too small for my nose and I need to get larger ones.

The pain from the blisters makes it difficult to sleep, eventually, I manage to ignore it and I will oftentimes wake up in the morning with more soreness. I started applying Lanolin to address this.

Is it possible that I am tucking in response to pain?



Upon extension of my neck upwards, the TOP of the pillows start to leak and when I notice this I notice that I subconsciously put my neck downwards in response.

I imagine this could also be playing a part in the issue?



I wasn't able to find much in the mask primer on nasal pillows, only found out about the nasal pillow size issue through digging through the forum.
Some of the clusters occur whenever my mask is leaking excessively, however,
I imagine that

pain or mask tightness 
could still cause the same type of positional response

?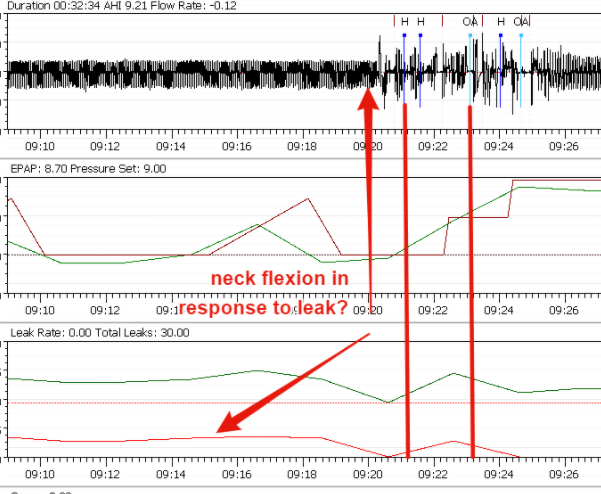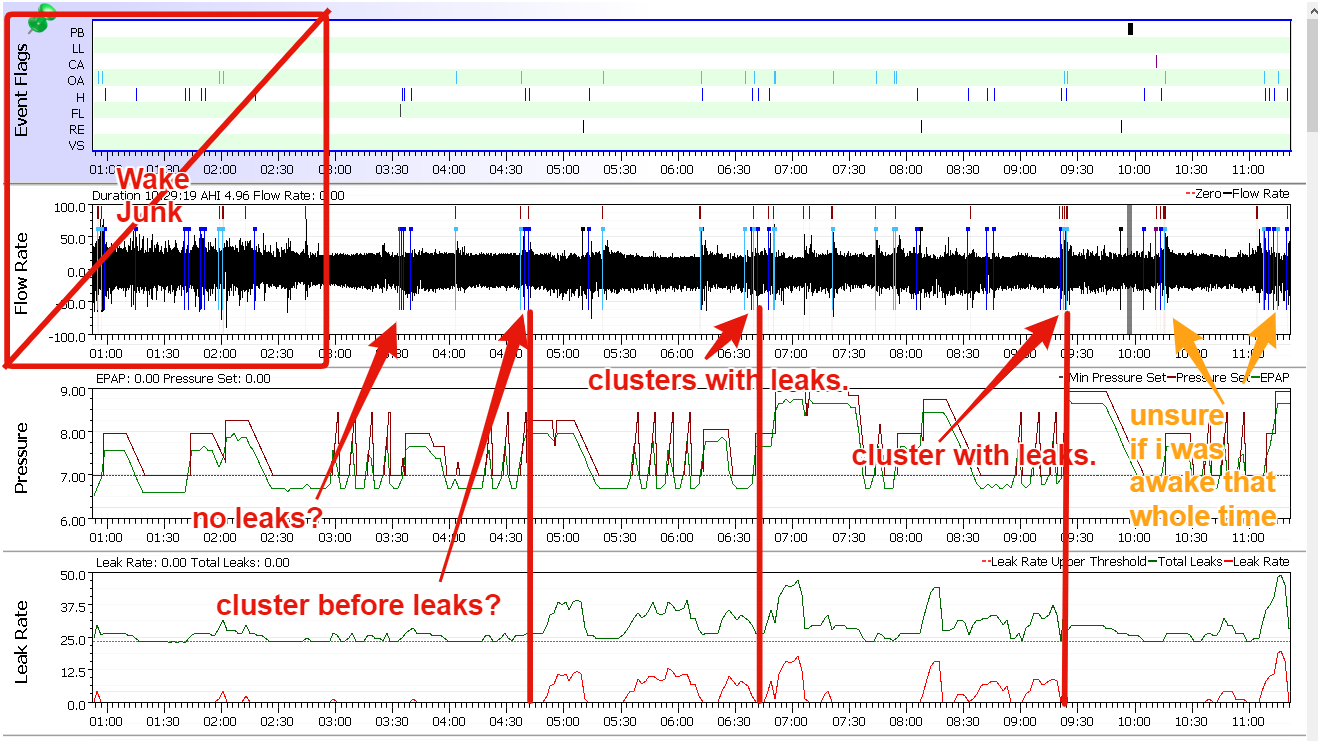 Collar-Wise
I purchased the 3M Futuro Neck Collar at a pharmacy in response to being informed about positional issues, however, after my first night, the side of my neck that I slept opposite of (right side with left neck pain) was in a lot of pain.

I assume this is because of my pillow being too low or high?




The distance between my throat and my chin is 2 inches, this collar is only one inch thick

,

would that still stop me from tucking my chin?

I don't have any issues whilst awake tucking my chin it seems, there's some minor resistance but it's hardly noticeable. Sometimes I worry that I'm tucking subconsciously because I can't tell if I'm getting any resistance or not.

The collar doesn't seem to stop me from pulling my neck forward as I often do while awake,

I assume this would probably contribute to positional apnea?



Is collar thickness important? Is it supposed to support my entire jaw or? I couldn't find much on the Wiki regarding it.
Do they even make thicker collars?
Position-Wise & Next Steps
Neck-tucking is the commonly cited issue for positional apnea,

yet are there other types of positional apnea I should be aware of?



I've always had a habit of tucking my chin,

I could only imagine that I will do it subconsciously in my sleep?



If the collars fail,

what other options are there to keep my airway straight and open?




Should I get a new mask and/or collar?



---
Most of my apnea issues are from these positional clusters that are cited, and I keep waking up every day feeling like the CPAP has done nothing. I'm fatigued, foggy beyond belief, and my short-term memory is essentially non-existent. I feel terrible and I've been fighting these symptoms for years, most of the time unknowingly. I don't even know/remember what it feels like to NOT be tired.
It's just very frustrating that you solve one problem (initially I was diagnosed with UARS) seemingly and you have another one come up.
---
Attached is last night's sleep log, not any different than the last few nights on the collar; clusters, and nothing more. I'm extremely thankful for all the help I've gotten so far, but I guess my case is beyond conventional and I just need more and more help regarding it.