I ride a 'recumbent trike'. I've been doing so since 2010. When I bought my first trike I was a 360lb (down from 390) 6'0" cripple with a new knee named 'frank'. I hadn't ridden a bicycle since 1979 (the year of my first knee surgery).
Why am I creating this thread? Perhaps there are others that need, or are looking for a enjoyable low-impact way of getting exercise without the *grind* of working out?
This is a recumbent Trike: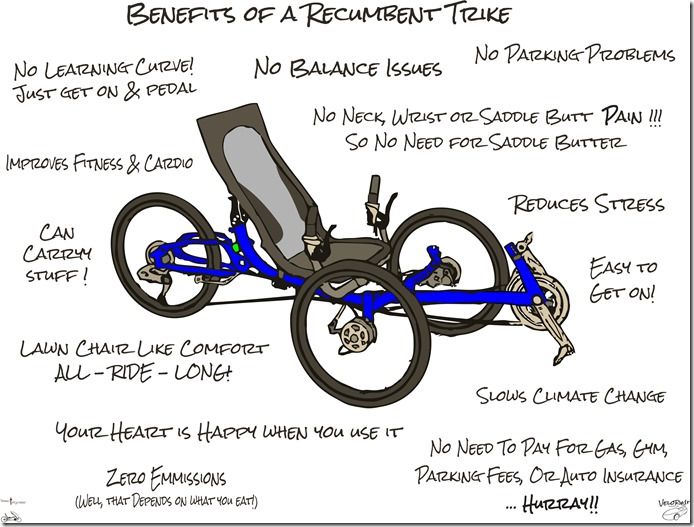 They range in price from $1,200 to $4,000 and higher. Many can fold, many can fit in the back of your SUV, even a small one like my 06 Tucson.
Some people ride in their neighborhoods, other people research and learn about local 'MUPs' (Multi User Paths) either paved or unpaved. I am lucky enough to live about 10 miles from a 90 mile long MUP, which is where I ride all the time. I have also traveled with my trike out of state to the "GAP" - where I trike-camped and rode some 250 odd miles over nine days.
A great forum can be found by using Google to search for "BROL", if you wish to learn more.
The key for me was to find a form of exercise I could do, that I actually enjoy doing, that doesn't feel like I am suffering while I am doing it. This is my answer. This works for me. I still have weight to lose, and I am not yet the picture of perfect health, but I no longer have to see my heart Doctor weekly, I am no longer a diabetic, and to date I've been taken off seven of my meds. I am down to 307lbs now.
Some 4 weeks after my right hip replacement I was back on my trike doing 2-3 miles per day. With the Ortho's blessing.
Just something to think about if you like...
*I* am not a DOCTOR or any type of Health Care Professional.  My thoughts/suggestions/ideas are strictly only my opinions.
"Only two defining forces have ever offered to die for you. Jesus Christ and the American Soldier. One died for your Soul, the other for your Freedom."