Hello Guest,
Welcome to Apnea Board !
As a guest, you are limited to certain areas of the board and there are some features you can't use.
To post a message, you must create a free account using a valid email address.
Login

or

Create an Account
Looks like I did everything wrong. I need help
Thanks Cate. Your support is appreciated.
Okrobie, you might be interested in this NIH study on positional apnea patients compared to non positional patients.
http://www.ncbi.nlm.nih.gov/pubmed/9315794
Apparently you're in good company, and it seems statistically positional apnea patients may be lighter-weight and younger than non-positional. I've never seen anyone that displayed the positional apnea characteristic more clearly than yourself.
Thanks Sleeprider, that's an interesting article. I'm an outlier on the bell shaped curve however because I am 73 years old and weigh 180 lbs. on a 5'7" frame. Kind of chubby.
Had an excellent night last night. No leakage, no back sleeping. AHI 1.7. Thanks for your help and support. Jim
okrobie,

I just read this entire thread and even though I have been benefiting from the wisdom and generosity of this forum since April, I am blown away by how the heavy hitters in this community pulled together to support and coach you.

If I had chimed in earlier it would have been to suggest that you check youtube for useful videos on how to fit and clean your masks. Google "<your mask> mask fit" where <your mask> is the name of your mask (i.e. Quattro FX mask fit). When the google results come back, click on the Videos link at the top to see a list of related videos. I learned a lot about how to properly fit my masks from youtube videos as well as tips from other users here on apneaboard.

Looks like you may already have the leak problems solved, but if it comes back you might go find some youtube help on fitting your mask. There might be some adjustments you can make that will make buying 3rd party pads unnecessary.

I had big problems with leaks using a full face mask when I started. After weeks of playing around with it, I tried a chin strap and leak problem was solved almost overnight.

Anyways, very happy for you.

Best wishes for continued success.

Saldus Miegas
Thank you Saldus Miegas, I'll look at YouTube later today. Meanwhile, I had another great night. I feel well rested. Better than I have for years. Thanks to you all "Heavy Hitters". Yes Saldus, the support and encouragement I have received here is totally awesome.
Can someone please help me with SleepyHead? I can't figure out how to display more of the night on my graphs. It cuts off around 4:00AM. Last night earlier. Thanks.
Here are the results from last night.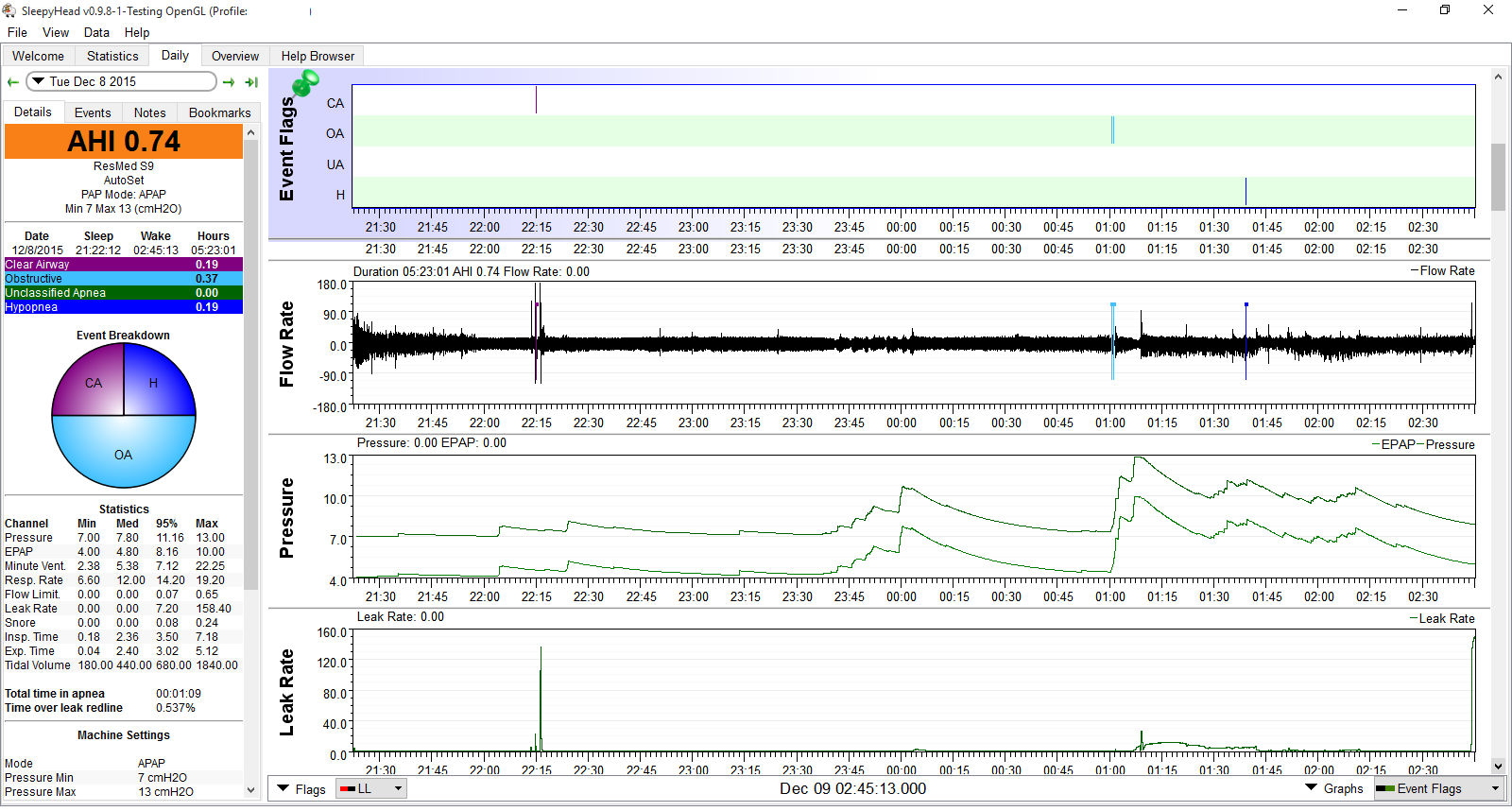 In SleeyHead try to zoom out your graphs by right-clicking the graph name which is on the left side of the graph (for example
Event Flags
) and choose 100% zoom level or Reset Graphs Layout. You may also want to check your Y-Axis is set to auto-fit.
Using FlashAir W-03 SD card in machine. Access through wifi with FlashPAP or Sleep Master utilities.
I wanted to learn Binary so I enrolled in Binary 101. I seemed to have missed the first four courses.
okrobie,

quick tip on sleepyhead ... you can zoom in or zoom out by clicking on any of the rows showing timeline of a metric. Left click will zoom in, centered on the time line location that you click on. Right click will zoom out, again centered on the time line location you click on (until fully zoomed out). If you are zoomed in, the Events row at the top will highlight the time range you are looking at in white, and gray out the rest. The lower rows with metric data will show the zoomed start and end times. This is handy if you see a cluster of events and you want to drill down into them, simply left click on that part of the timeline. And of course to return to the full night, right click until it won't zoom out any further.

Another note is when you look at the time of day in sleepyhead, it gets that data from the SD card as recorded by your machine. So if your machine is on a different time zone (or out of synch with daylight/standard time) then you might see the entire night displays times off by that number of hours. To adjust that you would have to go into the clinical menu on the CPAP machine, and there are some restrictions on setting the clock backwards if it would record over hours that already have data.

So, if you are zoomed all the way out and still seem to be missing data, notice if the entire time of day range is off shifted. It might simply be the CPAP machine clock is set for a different time zone.

Saldus Miegas
Thanks Alan, that is all set up correctly.

Saldus, you hit the nail on the head. The clock in the ResMed S9 was off. We'll see tomorrow how it works out. Thanks.
My graphs looked good this morning except I got on my back for a while and it got kind of messed up. The AHI was 5.45.



Saldus, my times were perfect on the graphs this morning. Thanks!


Possibly Related Threads...
Thread
Author
Replies
Views
Last Post

[Pressure]

New CPAP User - How Am I Doing? What am I doing wrong?
spameggsandspam
8
213
06-12-2018, 06:37 AM
Last Post: Sleeprider

[CPAP]

Something's gone wrong.
Emmet
20
639
05-16-2018, 07:10 AM
Last Post: Emmet

[Diagnosis]

Am I doing something wrong ?
grego77
4
202
04-29-2018, 05:48 PM
Last Post: Walla Walla

[Equipment]

DreamMapper Something Went Wrong
RLZEEN47
5
446
04-05-2018, 05:02 AM
Last Post: sickntired
New Guy, Central Sleep Apnea, wrong machine?
Boodmaster
83
4,383
03-31-2018, 01:15 PM
Last Post: Boodmaster
Bad sleep numbers the last week? What is wrong.
aeilers
4
323
03-21-2018, 08:11 AM
Last Post: bonjour
Time Setting/Hours Wrong on Replacement Bipap
bluemom51
5
285
02-15-2018, 02:03 PM
Last Post: HalfAsleep