SleepPhones_2
While buying supplies from the #1 supplier, I ran across this contraption. Anyone ever tried the SleepPhones: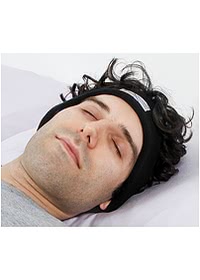 The online DME suggests that you can use the device to drown out the noise of your machine or mask. I just cannot imagine putting something else on my head to help me sleep; might as well wear a full helmet. :Loco:
INFORMATION ON APNEA BOARD FORUMS OR ON APNEABOARD.COM SHOULD NOT BE CONSIDERED AS MEDICAL ADVICE. 
ALWAYS SEEK THE ADVICE OF A PHYSICIAN BEFORE SEEKING TREATMENT FOR MEDICAL CONDITIONS, INCLUDING SLEEP APNEA.
INFORMATION POSTED ON THE APNEA BOARD WEB SITE AND FORUMS ARE PERSONAL OPINIONS ONLY AND NOT NECESSARILY STATEMENTS OF FACT.