Hello Guest,
Welcome to Apnea Board !
As a guest, you are limited to certain areas of the board and there are some features you can't use.
To post a message, you must create a free account using a valid email address.
Login

or

Create an Account
Help needed to optimize my Dreamstation Auto CPAP
FYI, this is my first day stats using the Dreamwear mask without the nasal pillows. It's the reason why the the average stats are so high.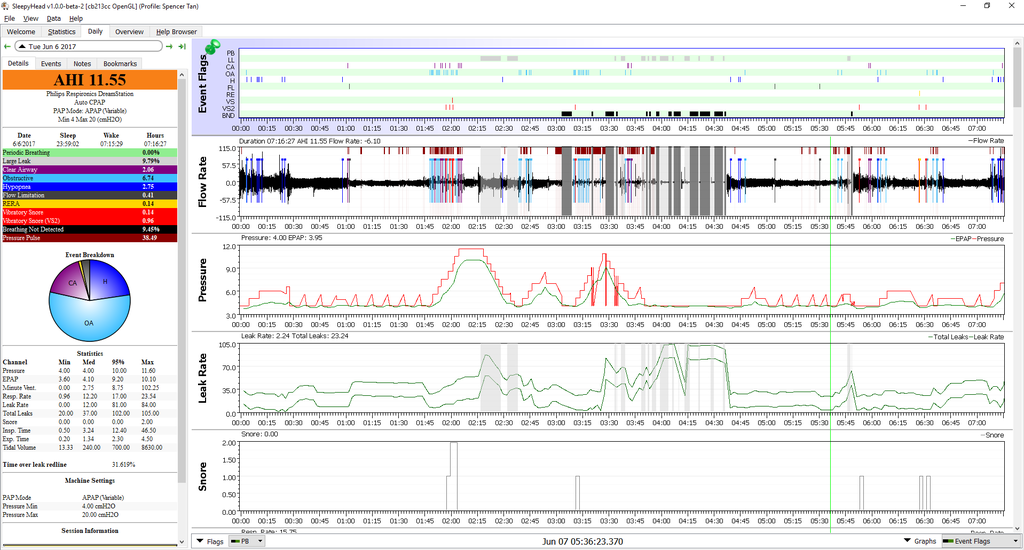 Give yourself time to adjust to your new machine. If you are finding that you feel starved for air consider raising the lower limit from 4.
Take time to read about stuff in the wiki link at the top of the page.
Thanks kwhenrykerr, I have gone through the wiki links but not extensively. Will continue to do so. Thinking of increase my pressure from 4 to 6 tonight. But I will wait for more suggestions and see.
At this time it is probably ok to ride the current settings to give the body, brain, and machine time to get to know each other.  Learning how to read the results and maybe pick a better setting range can help with scores as well as leaks and sleep disruptions caused by the machine and mask interface with the cheeks and/or nose.

When I first started, min pressure of 4 was just fine, but some others felt a little air starved at anything under 6.

With the quick look we have had in just the few short days, you could probably narrow the band to 6 min and 14 max. 

I found that on the 40th day of treatment my pressure suddenly climbed to 16.5. It felt disasterously horrible. The very next day I changed the upper limit to 13.5 figuring that was the highest I was willing to subject myself to. [at the time, my worst 90% pressure was about 10.5]  I thought that would still give me plenty of room if needed.  In time I have increased the top pressure and am more comfortable.

QAL
Dedicated to QALity sleep.
You'll note I am listed as an
Advisory Member
.
I am honored to be listed as such. See the fine print -
Advisory Members as a group provide advice and suggestions to Apnea Board administrators and staff concerning Apnea Board operation and administrative policies. Membership in the Advisory Member group should not be understood as in any way implying medical expertise or qualification for advising Sleep Apnea patients concerning their treatment.
I would increase the minimum pressure to 6cm.  You can leave the max pressure at 20 for now, but I personally like a narrower range.  As QAL stated, 14cm.

Try to sleep on your side as much as possible.  Looks like some of your events come in bunches, which could be from back sleeping.

Also, just a suggestion... a soft cervical collar can help keep your neck aligned and stop mouth breathing.  They come in various sizes.

Wear the mask that is most comfortable for you, but you will need to watch the leaks, this is where a soft cervical collar can help.  Stick with your changes for at least a week or two.
Hi st8800,
WELCOME! to the forum.!
It takes time for the body to get used to CPAP therapy. If you are feeling like you aren't getting enough air, you could raise your minimum pressure to 6 and see how that gose for you.

Good luck to you on your CPAP journey.
trish6hundred
I agree with OpalRose to raise minimum pressure to 6 for now. The clusters of apnea suggest a positional issue, that may be resolved with a soft cervical collar. That should also help with the large leak events. A soft cervical collar only costs $10-$20, and works for many people to prevent chin-tucking which closes the airway in any sleep position.